Saudi Arabia and Iran scooped top spots in a Quran and call to prayer recital competition in the Kingdom on Friday, state press agency SPA reported.
Iranian contestant Younes Shahmoradi secured first-place in the Quran recital part of the competition, earning a prize of $800,000 (three million SAR), followed by Abdulaziz al-Faqih from Saudi Arabia in second place, SPA said on Friday. Al-Faqih won $500,000 (two million SAR).
In the call to prayer category, Muhammad al-Sharif from Saudi Arabia emerged as the winner, taking home a prize of $500,000 (two million SAR). Indonesian contestant Diaa al-Din bin Nizar al-Din secured second place, winning one million riyals ($267,000).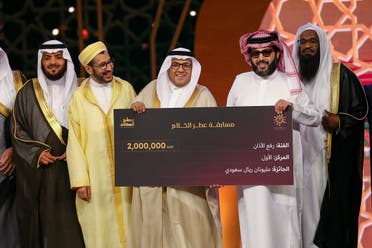 Saudi Arabia's chairman of the General Authority for Entertainment Turki al-Sheikh presented the winners with their awards. The competition – aatr al-kalam or perfume of words in English – had a total prize pool of $3,000,000 (12 million SAR), SPA said.
Saudi Arabia's General Authority for Entertainment launched the programmed in 2019 to celebrate "exceptional vocal talents in Quranic recitation and the call to prayer," according to SPA.
During the finale, the program received six certificates from the Guinness Book of Records. These included recognition for the largest Quranic competition in terms of participating countries, the largest competitions in the call to prayer, as well as the largest prizes in Quranic and call to prayer competitions.